Connections
VIDEO INPUTS
- 8 or 16 3G/HD/SD/SDI or HDMI (Depending on the model)

VIDEO OUTPUTS
- 1 x 4K HDMI UHD 25/30Hz Output and 1080i (50,60), 1080p (25, 30, 50)
- 4 X 3G/HD SDI Outputs: 1080i (50,60), 1080p (20,30,50,60)
TSL and Remote Control
- 1 x RJ-11 connector for TSL 3.1 (RS-485) and RS-232 in/out
- 1 x Ethernet RJ-45 for TSL 5.0 and SNMP control softwares.
- 1 x GPIO contact closure Connector for Red Tally.
Compatibility
Autosensing inputs between 3G/HD/SD and simultaneous viewing of all inputs with different resolutions and frequencies.

Updates
Through USB 2.0 high speed connection or Ethernet.
Configuration
Through Ethernet control free software Soft4Boxes Pro.
---
Compatible format
SD Standards
- SMPTE 125M/259M
- Formats: 480i (59.94) 576i (50)
- Cable lenght: 250m Belden 1694A
- BNC Connector
HD Standards
- SMPTE 274M and SMPTE 296M
- Formats: 1080p (30, 29.97, 25, 24, 23.98, 30PsF, 29.97PsF, 25PsF, 24PsF, 23.98PsF) 1080i (60, 59.94, 50) 720p (60, 59.94, 50)
- Cable lenght: 100m Belden 1694A
- BNC Connector
3G Standards
- SMPTE 424M-2006 level A and Level B Dual Stream (B-DS)
- Format: 1920x1080p (60, 59.94, 50)
- Cable lenght: 85m Belden 1694A
- BNC Connector
SDI Compliance
SMPTE 259M, SMPTE 292M, SMPTE 296M, SMPTE 425M-B, ITU‑R BT.656, ITU‑R BT.601.
Audio Level Meters
Vu-meters standard in every input (16ch on 3G/HD/SDI and 8ch on HDMI)
SDI Video Sampling
4:2:2
SDI Audio Sampling
Standard frequency of 48 kHz and 24 bits.
SDI Color Precision
4:2:2 of 10 bits input
SDI Color space
YUV
---
Control
Built-in Keyboard
Multiple user configurable keys and encoder for adjusting all the multiviewer parameters.
External control
Full control of all parameters through ethernet using our free software Soft4Boxes or any other SNMP agent.
Customized Keyboard
Create your customized keypad broadcast deck using our keypad creator on Soft4Boxes PRO and access your main features and layouts faster.
---
Power requirements
Power supply
12V External power supply
IEC Cable (included) for 100-240 V.
Power Fail protection
Configuration will preserve and restore inmediatly when power back on the equipment.
Power Consumption
24 W
---
Physical Specifications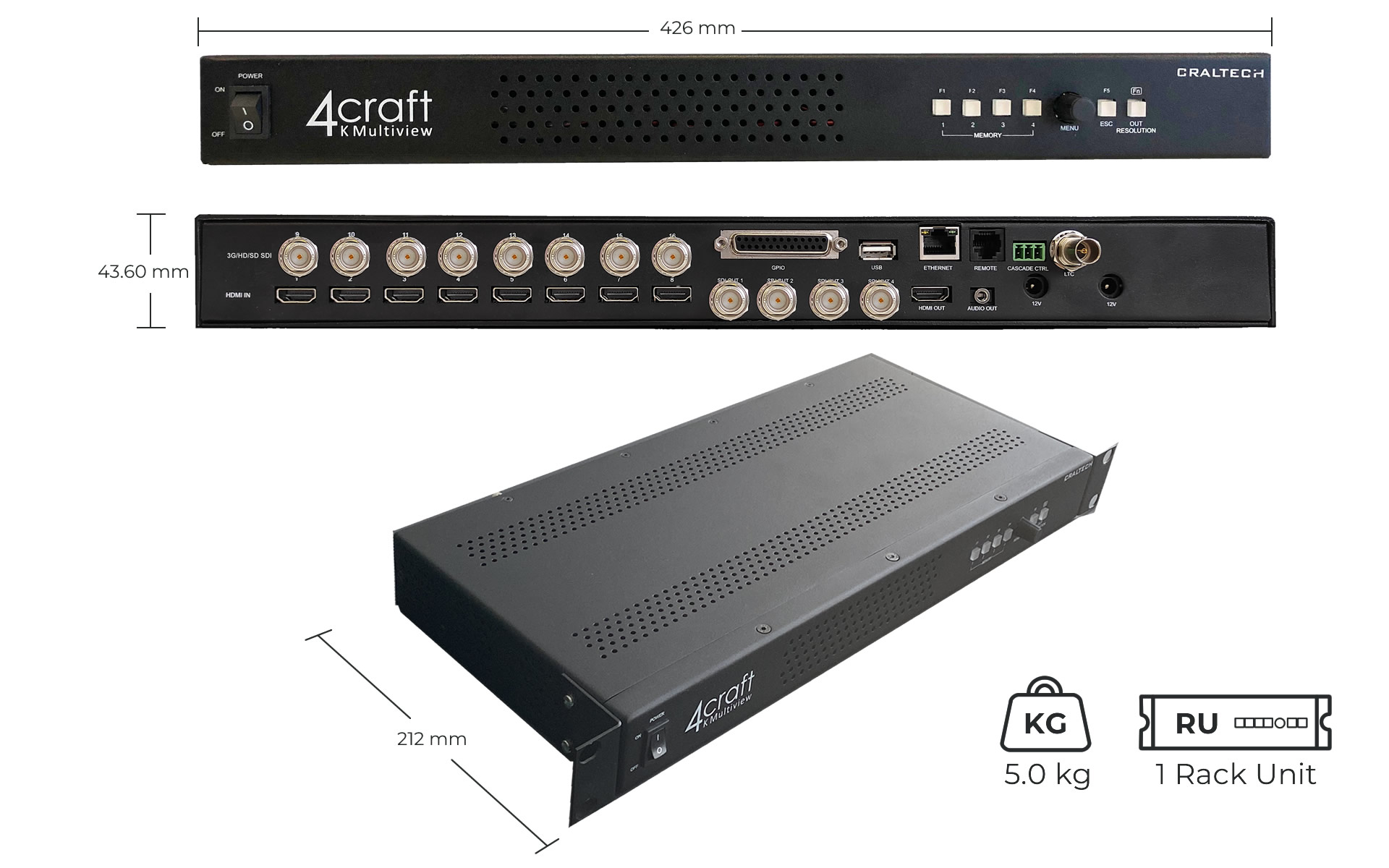 ---
Environmental Specifications
Operating Temperature
0 °C a 40 °C (32 °F a 104 °F)
Storage Temperature
–20 °C a 45 °C (–4 °F a 113 °F)
Relative Humidity
0 % a 90 % without condensation
---
Warranty

2 year warranty on the electronics. Limited Manufacturer warranty.