- 42" LED Backlight Monitor LCD
- Sistema Multipantalla Modular integrado
- Hasta 32 inputs (3G/HD/SD-SDI, HDMI (No HDCP), Video compuesto)
- Puramente basado en Hardware (Sin Pc, Sin disco duro)
- Ahorro de espacio, sin ventiladores, eficiencia energética y ligero diseño en aluminio
- Robusto sistema de cajas para una fácil integración
- 5 Slots para boxes externas (* Boxes no incluidas)
- Ángulos de visión totales
- Motor de procesador de imagen a 10 bits con bajo retardo de procesamiento
- Control rápido: Teclas configurables por el usuario y encoder
- Ajuste de brillo, contraste y saturación
- Ajuste de temperatura de color (5600K, 6500K, 9300K and User (R, G, B Gain and Bias adjustment))
- Gamma correction
- Blue Only / Monochrome
- Selección de relación de aspecto (4:3, 16:9)
- Marcadores y áreas de seguridad
- ATC Time code (3G/HD/SD-SDI)
- Alarmas en pantalla: No audio, Silence, No input y Black image
- Monitor de onda en tiempo real (Seleccionable RGB, R, G, B,
YCbCr, Y, Cb, Cr) y vectorscopio por entrada
- 16 Canales de Audio Level Meters (embedded audio)(3G/HD/SD-SDI)
- Formato de los Audio level meters seleccionable (Vertical o Horizontal)
- Relojes por NTP y locales y contadores
- 16 caracteres UMD e informacion de formato de video por entrada
- Tally y UMD compatible con TSL 3.1 y 5.0
- Color del fondo de pantalla, borde y texto seleccionable
- Software de control gratuïto fácil de usar drag and drop y actualizaciones de firmware por USB

Display & control 4 HDMI sources on a 4K screen with all professional features
Estos Multipantallas disponen de todas las características profesionales tales como UMD y Tally, Blue Only, Relación de aspecto seleccionable, marcadores, monitor de forma de onda y vectorscopio a tiempo real por entrada, 16 canales Audio level meters, alarmas, timecode, ajuste de backlight y temperatura de color (5600K, 6500K , 9300 K, y la ganancia RGB y el ajuste Bias),... Toda la gama Box4Boxes integra teclado frontal con teclas configurables por el usuario y encoder. Cualquier ajuste del menú puede configurarse en una de las teclas directas, para acceder a las funciones más rápidamente, la iluminación de las teclas se puede desactivar si es necesario para entornos oscuros.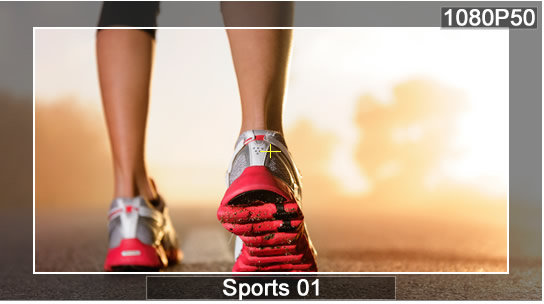 Marcadores
Gran variedad de marcadores y security areas disponibles con selección de color y nivel de transparencia de cortina. Posibilidad de personalizar su marcador si los marcadores estándar no se adaptan a sus necesidades.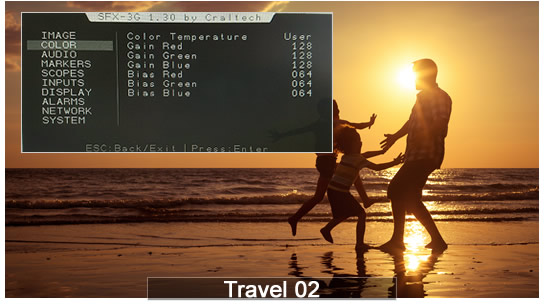 Ajuste de temperatura de color y Gamma
Ajustes de colorimetría broadcast profesional, con corrección de gamma y selección de temperatura de color (5600K, 6500K, 9300K y User con ajustes RGB, Gain y Bias)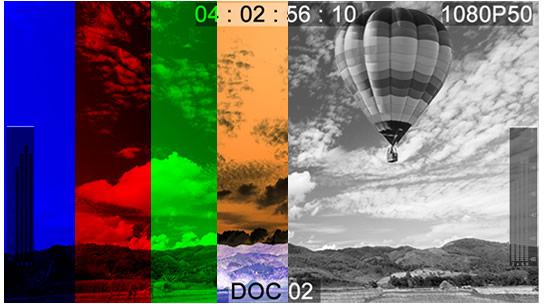 Blue, Red and Green Only, y Monochrome
Blue Only, Red Only, Green Only, Blue All, Red All, Green All, Monochrome y Inverse.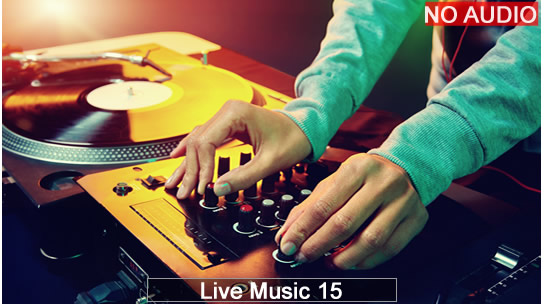 Alarmas
Alarmas en pantalla de video y audio con color y tiempo seleccionable. No Input, Black Image, No Audio, Silence.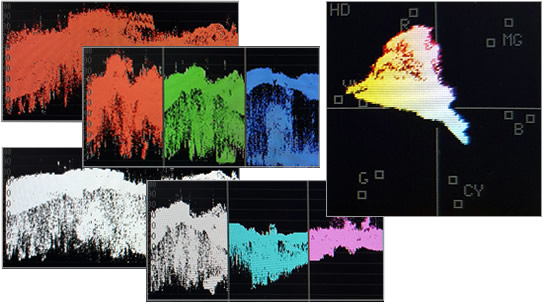 Monitor de onda y vectorscopio
Monitor de onda y vectorscopio a tiempo real. Monitor de onda seleccionable entre RGB, R, G, B, YCbCr, Y, Cb, Cr y 2 tamaños distintos de los scopes. Coloque sus scopes donde quiera en cada uno de los quadrantes.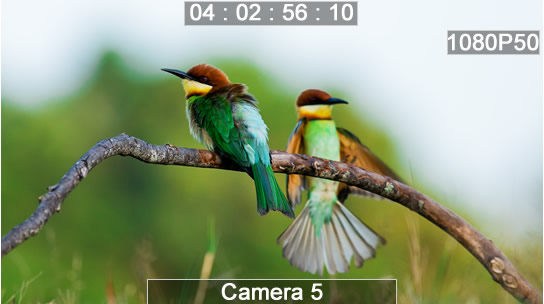 Timecode e Información de formato
ATC Timecode e informacion de formato de video en pantalla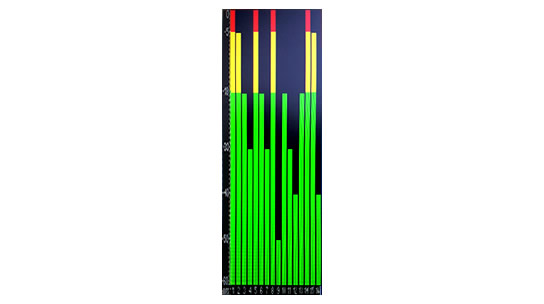 16 Canales Audio Level Meter
Muestre hasta 16 canales Audio Level Meters con un amplio rango de opciones (Todos juntos, separados en pares-impares,.. Nivel amarillo y rojo seleccionable y 2 tamaños diferentes disponibles.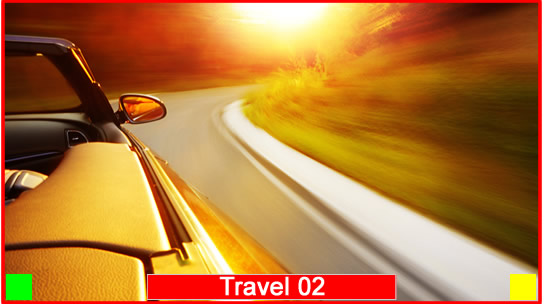 Tally y UMD
Tally Rojo, Verde y ambar y 16 caracteres UMD compatibles con TSL 3.1 y TSL 5.0. Tres modos de tally disponibles: Square, Border y UMD (pueden activarse todos a la vez)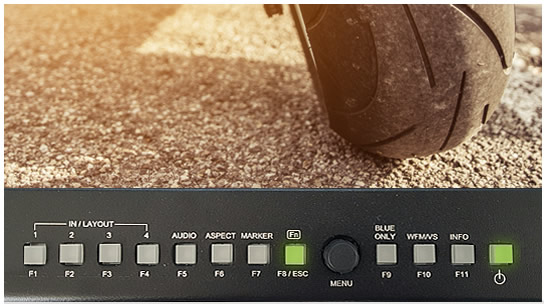 Encoder & teclado con Doble Funcionalidad
Encoder para navegar fácilmente a través del menú OSD, y teclas directas con doble funcionalidad (fija/configurable). Active [Fn] Mode para usar las teclas con sus configuraciones personalizadas y acceda a sus ajustes favoritos más rápidamente. Las luces de las teclas pueden desactivarse si es necesario para entornos oscuros.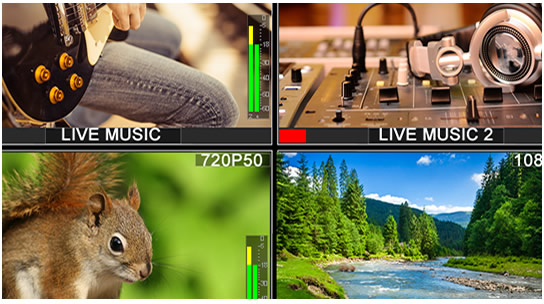 Color de Borde y Texto seleccionable
Color de Borde y texto seleccionable. Colores disponibles: negro, blanco, rojo, verde, azul, cian, magenta, amarillo y 7 niveles de gris.


Relojes y contadores
Muestre hasta 2 relojes y 6 contadores en su Layout. Relojes NTP y local y contadores up y down.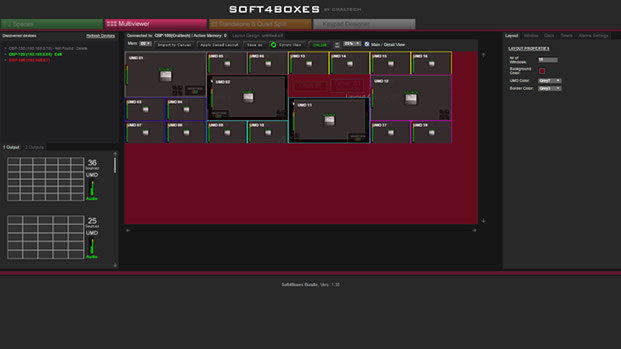 Soft4Boxes Pro Software de control
Soft4Boxes Pro is a user-friendly Web-Based control software to control our Multiviewer, Monitors and Video Processors. Control all your 4Craft units remotely only with one touch using a tablet, phone or PC!
* Click here for more information!


LCD DISPLAY
- 1920 x 1080 pixels LED Backlight display
- Brillo: 500 cd/m²
- Contraste: 4000:1
- 178,178 Ángulos de visión totale
ENTRADAS DE VIDEO
- Hasta 32 entradas (3G/HD/SD-SDI, HDMI (No HDCP), CVBS) dependiendo de las cajas integradas.
3G-SDI
- SMPTE 424M-2006 level A
- Formato: 1920x1080p (60, 59.94, 50)
- Longitud del cable: 85m Belden 1694A
- BNC Connector
HD-SDI
- SMPTE 274M and SMPTE 296M
- Formatos: 1080p (30, 29.97, 25, 24, 23.98, 30PsF, 29.97PsF, 25PsF, 24PsF, 23.98PsF) 1080i (60, 59.94, 50) 720p (60, 59.94, 50)
- Longitud del cable: 100m Belden 1694A
- BNC Connector
SD-SDI
- SMPTE 125M/259M
- Formatos: 480i (59.94) 576i (50)
- Longitud del cable: 250m Belden 1694A
- BNC Connector
CONECTOR GPIO
- Cierre de contacto a GND
ETHERNET (Box CBS-3000)
- Conector RJ-45

CONECTOR USB (Box CBS-3000)
- Actualización del sistema
DIMENSIONES
- CBM-420 (Monitor 42"):
Dimensiones 975 x 590 x 107 mm.
Peso 22Kg sin cajas (23.5Kg con cajas)
REQUERIMIENTOS DE ENERGÍA
- Monitor 42" 24V DC (Conector XLR). Consumo de energía: 120W
MONITORES LCD MODULAR MULTIVIEWER
- CBM-420 (42" Monitor LCD con 5 slots (1 para CBS-3000 CPU, 4 para input boxes)
CAJAS
- CBS-3000 (Caja de control CPU con 2 salidas HD-SDI y 1 salida HDMI, DEBE ser integrada en todos nuestros equipos y monitores)
- CBS-3G4 (Caja con 4 entradas 3G/HD/SD-SDI)
- CBS-3G4L (Caja con 4 entradas 3G/HD/SD-SDI y 4 BNC active loop through)
- CBS-3G8 (Caja con 8 entradas 3G/HD/SD-SDI)
- CBS-3G4HD4 (Caja con 4 entradas 3G/HD/SD-SDI y 4 entradas HDMI)
- CBS-HD4 (Caja con 4 entradas HDMI)
- CBS-HD8 (Caja con 8 entradas HDMI)
- CBS-CV4 (Caja con 4 entradas Video compuesto)
- CBS-CV8 (Caja con 8 entradas Video compuesto)
EJEMPLOS
- CBM-420 + CBS-3000 + CBS-3G8 + CBS-3G8 + CBS-HD8 + CBS-3G4HD4 (42" Monitor LCD con 20 entradas 3H/HD/SD-SDI y 12 entradas HDMI)
- CBM-420 + CBS-3000 + CBS-8HD + CBS-8HD (42" Monitor LCD con 16 entradas HDMI y 2 slots libres)